Eine Band wie ein Baum: Mit Wurzeln in der Bluesrock Szene, seit diese in den 60er Jahren auch in Europa populär wurde.
Der Sound wie ein Stamm: Kräftig, knorrig und massiv.
Die Musikerin und die Musiker, die wie starke Äste ihr virtuoses Können verbinden.
Das Repertoire wie das Blattwerk der Baumkrone: unterschiedliche Tönungen von eigenem Material und Coverversionen ergeben ein kunstvolles Ganzes.
Gewachsen. Gelebt. Gefeiert.
---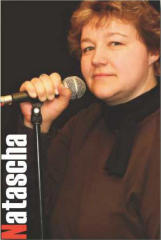 Natascha – Vocals
Powervolle Frontfrau mit beinharter und zugleich gefühlsstarker Stimme im Stil von Janis Joplin und Alannah Myles.  Member of "Cheap Trixx".
Peter Kipp – Bass
Waschecher Blues- und Sessionmusiker, experimentierfreudig, vielseitig und am liebsten spontan. Vorliebe: in Stein gehauene Basslinien mit Herz und Hintern. Tanzen muss es! Member of Cheap Trixx.
Jürgen Beier – Drums
Call him "the beat". Member of "Transit".
'TheBluesRock' Frank M. – Guitar
Professioneller Session- und Studio-Musiker aus Leidenschatft. Seine Botschaft: "Folks, Get Ready To Roll, Roll, Roll, everything is adventure!" Shared stage with B.B.King, Bernard Allison, Louisiana Red.
Jürgen Habler – Keyboard
Back to the Roots: Vintage Keyboard Sounds aus der Rhodes- Wurli- B3-Abteilung haben inzwischen seine Vorliebe für synthetische Klänge abgelöst. Member of "Cheap Trixx".