«Blues für die Seele und die Sohle»
VON SYLKE KAUFHOLD
Uwe Krausse präsentiert am kommenden Freitag zum ersten Mal die «Sonnenköppe-Bluesnacht» in der Raststätte «Sonnenköppe». Bluesrudy aus Wittenberg und Peter Schmidt aus Berlin eröffnen die neue Reihe.
DESSAU/MZ.
"Mögen Sie Blues?" – Diese Frage haben Olaf Ernst, Uwe Krausse, Hendrik Pieske und Rainer Seifert in den vergangenen Monaten vielen Menschen gestellt. Für sich selbst haben sie diese aber schon seit langem mit einem klaren Ja beantwortet.
Die vier Dessauer sind also bekennende Bluesfans und wollen ihrer Leidenschaft endlich auch in ihrer Heimatstadt frönen können. Kurzum, sie beschlossen, eine Blues-Szene zu gründen und riefen die "Sonnenköppe Bluesnacht" ins Leben. Die erste findet am kommenden Freitag, 16. März, ab 20 Uhr in der Raststätte "Sonnenköppe" statt. Auch das Motto war schnell gefunden: "Blues für die Seele und für die Sohle". "Wir möchten Blues in entspannter Atmosphäre anbieten, Blues zum Tanzen, Mitwippen und Zuhören", erklärt Olaf Ernst, was dahinter steht.
Die passende Lokalität war in der Raststätte ebenfalls schnell gefunden. Inhaber Uwe Krausse, selbst bekennender Bluesfan, suchte eine passende Veranstaltung für sein Lokal, und die Bluesnächte die passende Lokalität. "Es passte also alles schnell zusammen und fügte sich hervorragend", strahlen Ernst und Krausse eine Woche vor der großen Premiere.
Nationale und internationale Bluesmusiker werden fortan regelmäßig die Raststätte am Rande der Stadt zum Klingen bringen. Dabei werden nicht nur gestandene Bands zu erleben sein, verrät Olaf Ernst, sondern auch "ungewöhnliche Kombinationen von Musikern". Dass es an denen einmal mangeln könnte, diese Angst haben die Väter der Dessauer Bluesnacht inzwischen nicht mehr. "Wir haben die ersten Künstler angerufen und damit etwas losgetreten, womit wir überhaupt nicht gerechnet hatten". Es sei fast so gewesen, als hätten die Musiker nur darauf gewartet. "Sie waren begeistert von der Idee und schon bald riefen die Künstler bei uns an und fragten, ob sie mitmachen dürften", berichtet Ernst.
Bluesrudy aus Wittenberg und Peter Schmidt aus Berlin werden kommenden Freitag den Reigen der Bluesnächte eröffnen. Am 11. Mai haben sich House on Hill aus Hamburg angesagt, Hans die Geige wird im September noch einmal mit Bluesrudy auf der Bühne stehen – und vielleicht noch einem besonderen Special-Guest. Am 9. November spielt die Jürgen Beiers Blues & Session Band aus Berlin. Mit Jürgen Beier steht dann übrigens ein ehemaliger Dessauer auf der Bühne. Für den 14. Dezember haben die Organisatoren ein großes Weihnachtsspecial mit vielen Überraschungsgästen auf dem Programm.
"Und dann machen wir erst einmal einen Schnitt und schauen, wie das Jahr war", kündigt Uwe Krausse an. Dabei gehe es ihnen nicht um den Gewinn in barer Münze, "wenn unterm Strich eine Null steht, ist das völlig in Ordnung" – sondern um die Akzeptanz und Resonanz beim Publikum. "Was ist angekommen, was nicht, was sollten wir verändern." Finden die Dessauer Gefallen an den Bluesnächten, dann soll es die selbstverständlich auch im nächsten Jahr wieder geben. "Musiker haben wir ja schon auf der Liste und Ideen auch noch viele."
Geht es nach den Vieren, soll die "Sonnenköppe Bluesnacht" nicht nur für Blues-Fans eine angesagte Adresse werden, sondern auch für die Musiker. "Sie haben hier die Gelegenheit, sich zu treffen, mal unkompliziert gemeinsam zu musizieren", sagt Uwe Krause und weiß, dass sich viele genau so etwas wünschen. "Deshalb sollen sich an diesen Abenden nicht nur die Besucher wohlfühlen, sondern auch die Künstler."
Natürlich wird bei den Sonnenköppe-Bluesnächten nicht nur an die Freuden für die Seele gedacht, sondern auch an die für den Gaumen. Ab 18 Uhr bietet der Küchenchef handgemachte Spezialitäten an, ab 20 Uhr werden dann kalte und warme Blues-Cannapees gereicht. Dazu gibt es Whisky, Schwarzbier oder Rotwein.
Konzert der "Törten Heroes"
Auf den ersten Blick scheint Dessau wahrlich keine Blues-Hochburg zu sein. Doch diesen Eindruck wollen einige Liebhaber dieses Genres mit ihrer neu ins Leben gerufenen Reihe "local heroes" etwas gerade rücken. Die Bühne der Raststätte "Sonn'nkeppe" soll die Plattform für die lokalen Bluesfreunde werden – ob auf der Bühne oder der Tanzfläche. Am 13. Juli nun ergreift eine wahre Legende die Chance, diese Bühne zu entern: "The Törten Heroes" sind zurück! Die sechs Musiker, die zusammen immerhin 400 Jahre auf die Bühne bringen, verstehen ihr Blues-Handwerk und begeben sich gemeinsam mit ihrem Publikum auf eine Reise durch verschiedene musikalische Genres, die aber stets ihre Wurzeln im Blues haben. Dabei sind die Jungs keineswegs eingestaubt. The "Törten Heroes" überzeugen mit ihrem Sound und wenn die Harp erklingt ist klar: Sie haben den Blues.
«Bluesige Session zur Weihnacht»
Zehn Künstler gestalten 5. Bluesnacht am Freitag
VON SYLKE KAUFHOLD
Mit einem großen Weihnachtsspecial verabschieden sich die Dessauer Bluesnächte in den Jahreswechsel. Zehn Größen der Bluesszene haben sich für Freitag, 14. Dezember, in der Raststätte Sonn'nkeppe zur Jam-Session angesagt und werden ab 20 Uhr "Blues für die Seele und die Sohle" zum Besten geben. Mit dabei sind Andreas Bock, Bluesrudy, Dirk Rutenbeck, Jürgen Beier, Henry Heggen, der extra aus Florida anreist, Kat Baloun, die aus San Francisco kommt, Hans "Die Geige", Marco Jovanovic und Peter Crow C. aus München.
"Es wird ein echter Knaller", freut sich Bluesbruder Olaf Ernst, der auf eine weitere Besonderheit des Abends hinweist. "Zur Krönung werden alle Bands gemeinsam auf der Bühne stehen und improvisieren."
Nicht nur auf die letzte Bluesnacht des Jahres blicken die Organisatoren zufrieden. "Wir wollten ein Jahr probieren und dann schauen", so Ernst. "Heute wissen wir, wir machen weiter." Bei den Künstlern hat sich die Dessauer Bluesnacht inzwischen als eine Veranstaltung mit besonderer Atmosphäre herumgesprochen. "Wir haben viele Anfragen, so dass schon die Termine für 2013 stehen." Am 8. Februar geht es weiter.
Im März hatten Olaf Ernst, Uwe Krausse, Hendrik Pieske und Rainer Seifert – alles bekennende und leidenschaftliche Bluesfans – das erste Mal zur Bluesnacht in die Raststätte Sonn'nköppe eingeladen. Und hatten damit wohl den Nerv vieler Dessauer getroffen. Inzwischen haben sich die Bluesnächte etabliert und einen festen Platz im Veranstaltungskalender der Stadt erobert.
Der Blues zieht in den Bauhausklub um
"Blues Rudy & Friends" begeisterten das Publikum am Freitag und verabschiedeten die Bluesnächte von diesem Ort.

(BILD: Thomas Ruttke)
Von Sylke Kaufhold
Die Bluesnächte verabschieden sich von der Raststätte "Sonn'n'köppe" und starten am 12. Dezember im Dessauer Bauhausklub neu durch. "Blues Rudy & Friends" heizte am Freitag noch einmal ordentlich ein in den Räumen der Raststätte.
Dessau.
Am Freitag war Bluesnacht in Dessau. Eine ganz besondere. Die Musiker, die vor drei Jahren in der Raststätte Sonn'nköppe zur allerersten Bluesnacht überhaupt spielten, waren wieder da und beendeten in der Polysisusstraße 1 eine Ära. Aber nur dort.
Olaf Ernst und Stephan Serfling freuen sich auf die Zusammenarbeit.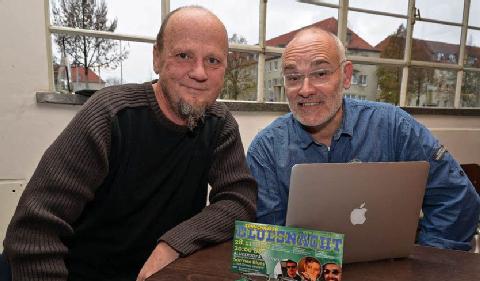 (BILD: Lutz Sebastian)
"Blues Rudy & Friends" heizte am Freitag noch einmal ordentlich ein in den Räumen der Raststätte, wo die Bluesnächte im März 2012 das Licht der Welt erblickten und sich seitdem zu einem mopsfidelen Kleinkind mauserten. 22 Bluesnächte haben die fünf Bluesbrüder in den drei Jahren organisiert. Und sind ein bisschen selbst überrascht von ihrem eigenen Erfolg. "Wir hätten alle nicht gedacht, dass sich unsere Veranstaltungsidee so etabliert", blickt Bluesbruder Olaf Ernst zurück. "Wir hatten nie einen leeren Saal." Viele tolle Abende hätten sie erlebt, tolle Musiker kennengelernt und auch tolle Gäste. "Wir sind immer noch mit dem Enthusiasmus und der Freude des Anfangs dabei und müssen uns manchmal selbst bremsen", schmunzelt Ernst. Zum Schluss seien sie ein bisschen aus den Nähten geplatzt.
Und deshalb war es Zeit für Veränderung! Die Bluesnächte ziehen um. Der Bauhausklub wird das neue Domizil der Veranstaltungsreihe sein. "Wir waren auf der Suche nach dem gewissen Gefühl", beschreibt Olaf Ernst die Suche. Clubcharakter habe man für die Bluesnächte gesucht, weg von der Gaststättenmusik. "Hier hat es uns am besten gefallen", waren sich die Bluesbrüder nach Vor-Ort-Termin und Gespräch mit Klubchef Stephan Serfling einig.
"Damit ist alles bestens geregelt. Es kann losgehen"
Der musste nicht lange überredet werden. "Die Veranstaltung gefällt mir sehr gut, bringt Leben in die Bude und macht Dessau ein bisschen bunter." Serfling, der auf eine langjährige Erfahrung in der Veranstaltungsbranche zurückblicken kann, schlug den Bluesbrüdern außerdem die Gründung eines Vereines vor, "um eine bessere Organisationsstruktur zu haben". Gesagt getan. Am 9. November gründeten sie den "Sonnen-Blues e.V.". Hendrik Pieske übernahm den Vorsitz, Olaf Ernst und Stephan Serfling fungieren als stellvertretende Vorsitzende. Reinhard Reichel als neuer Mitstreiter hat die Finanzen im Blick. "Damit ist alles bestens geregelt. Es kann losgehen", lädt Serfling zur ersten Bluesnacht im Bauhausklub ein.
Die wird am 12. Dezember stattfinden – und zwar als große Weihnachts-Jam-Session. Elf Künstler werden den Abend gestalten und miteinander musizieren. Beginn ist um 20 Uhr. "Wir können dann auch eine richtige Tanzfläche ausweisen", freut sich Olaf Ernst. Mehr als 120 Leute werden an den Steh- und Sitztischen Platz finden, verspricht er. (mz)
Na, das war ja eine feine Party am 18. September 2015. Es war die Party zum 10-jährigen Bestehen der Joris Hering Blues Band aus Berlin-Weißensee. Als Veranstaltungsort hatte man sich das geschichtsträchtige Bauhaus Dessau ausgesucht. Die Wahl des Veranstaltungsortes kam nicht von ungefähr – stammen doch alle Mitglieder des Berliner Powerblues-Trios ursprünglich aus der Region.
Möglich gemacht haben die Veranstaltung die Mitglieder des Sonnenblues e.V. Und das obwohl ihre Dessauer Bluesnächte bereits bis ins Jahr 2017 fest verplant sind.
Die erste Veranstaltung organisierten die Dessauer Bluesbrüder im März 2012 mit dem Duo Bluesrudy/Peter Schmidt in der Raststätte Sonnenkeppe. Aus dem anfänglichen Probelauf ist längst eine etablierte Konzertreihe geworden. Inzwischen können die engagierten Bluesliebhaber des Vereins bereits stolz auf 28 Bluesnächte mit nationalen und internationalen Bluesacts verweisen, die sich wachsender Beliebtheit erfreuen. Längst ist die Sonnenkeppe zu eng geworden, sodass man in das Bauhaus ausgewichen ist.
Eng war es auch an diesem Abend, dennoch blieb genügend Platz, um den Blues zu tanzen. Doch dazu kam es erst später.
Die erste halbe Stunde gehörte dem Singer und Songwriter Jan Grünfeld aus Halle/Saale, der mit Stücken wie "Liebeslied", "Wie im Flug" oder dem "Dopamin Blues" einen kurzen Einblick in sein Schaffen gab. Ihn als Opener gesetzt zu haben, hatte eine tiefere Bewandtnis. Mit Jan Grünfeld begann auch die Musikerkarriere von Frontmann Joris Hering. Und das war weit vor der JHBB. Gemeinsam spielten sie im zarten Alter von 15 Jahren in der Hallenser Schülerband Revanche. So ist es nicht verwunderlich, dass Grünfelds ziemlich rockig gehaltene Lieder nicht nur von Liebe, Sehnsucht und der Ostsee erzählten, sondern auch an die gemeinsame Jugendzeit und ihre Heimatstadt erinnerten.
Dann betraten Joris Hering (voc, g), Thomas Hering (bg) und Hans-Jürgen Beier (dr) die Bühne. In dieser Formation spielt man jetzt seit gut einem Jahr. Kennengelernt hatten sich Beier und die Hering-Brüder bei einer der Jam-Sessions in Dessau, die inzwischen alljährlich zum Jahresabschluss der Dessauer Bluesnächte geworden sind. Und wie man auch an diesem Abend erneut feststellen konnte – es passt! Kein Wunder! Schlagzeuger Hans-Jürgen Beier ist Profi und hält seit der Reunion der Berliner Rockband Transit im Jahr 2009 auch in dieser Band einen Stammplatz. Transit wurde bereits 1973 gegründet und gehört bis zum heutigen Tag zu den angesagtesten Ostrockbands.
Die Berliner begannen mit ihrem üblichen Intro. Der "Fishtone Blues" ist ein munteres Instrumental und stammt aus den Anfangsjahren der Joris Hering Blues Band. Es folgte "Texas Flood", jene Nummer, die durch Stevie Ray Vaughan weltweit bekannt geworden ist. In den gut acht Minuten ließ Joris Hering seiner Gitarre freien Lauf, gab dem Stück auf diese Art eine eigene Note, ohne das Original unkenntlich zu machen. Auch wenn sich die Band dem deutschsprachigen Blues verpflichtet fühlt, hat sie eine Reihe von Klassikern im Programm.
Der nachfolgende Song "Puppe" ist eine weitere Eigenkomposition. Ganz bewusst setzt Joris Hering in seinen Liedern die deutsche Sprache ein, und tritt damit den Beweis an, dass der Blues nicht nur schwarz ist – nicht einmal nur englisch sein muss. Die JHBB holt den Blues vom Mississippi an die Spree, verleiht ihm, nicht zuletzt durch den Einsatz deutscher Lyrik, eine ganz eigene Note und hebt sich auf diese Weise von einem weit verbreiteten Klischee ab. Joris Hering äußerte dazu: »Natürlich habe ich auch englischsprachige Titel geschrieben. Aber das fühlt sich ein wenig an, als würde ich mich verstellen. Deutsch ist meine Muttersprache. In ihr kann ich meine Gefühle am besten ausdrücken«. Zum Glück steht er in der heimischen Bluesszene mit dieser Meinung nicht alleine da.
Inzwischen hatte sich am Bühnenrand ein weiterer Gastmusiker startklar gemacht. Von nun an verstärkte der Hallenser Harper Thomas Schied das Berliner Trio. Der nachfolgende Song "Good Morning Little Schoolgirl" bot ihm beste Möglichkeit, seine Klasse unter Beweis zu stellen. Die Band ließ es ordentlich rocken und rollen. Das Publikum war in Stimmung gekommen. Die ersten Tänzer hatten längst die Fläche vor der Bühne in Besitz genommen.
Einfach Klasse, wie sich die ausgedehnten Soli von Gitarre und Harp einander ablösten. Das Zusammenspiel war perfekt. Dies ist nicht verwunderlich, wenn man weiß, dass Schied Stammgast der JHBB ist. Auch Thomas Schied ist in der hiesigen Bluesszene längst kein Unbekannter mehr; stand er doch schon vor Jahren gemeinsam mit der L.E. Boogieband auf der Bühne, arbeitete eine Zeitlang mit dem Bremer Heiko Schrader zusammen und tourte mehrfach mit dem Iren Travor Hansbury durch die Bundesrepublik. Sein aktuelles Projekt nennt sich The Blind Flying Dog.
Noch vor der ersten Pause erklang ein weiteres Stück aus der Feder von Joris Hering. Der "Heimstadt Blues" ist eine Hommage an Halle/Saale, der Geburtsstadt der Gebrüder Hering. Es sind vor allem Alltagsgeschichten, die der Blues der JHBB zu erzählen hat. »Kill den Alltag. Mit Alltagsblues. Blues lässt Dampf ab und hilft dir, den ganzen Alltagsmist zu überstehen«, so lautet das Motto der Band. "Katze", "Wunderschön", "Süße", "Sie verließ mich"… sind Momentaufnahmen, die bestens geeignet sind, sich fallen und einfach treiben zu lassen. Den stimmungsvollen Slow Blues über Regentage ("Regen") und das "Lied für einen Fluss" bin ich geneigt besonders hervorzuheben, halte ich sie doch textlich und musikalisch für besonders gelungen.
Längst spielte man das zweite Set. Nach der Tom Petty–Nummer "Cabin Down Below", einem schweißtreibenden Boogie, folgte "Unterwegs". Nun schlug auch die Stunde des jungen Pianisten Artur Kühfuß. Er hatte die weiteste Anreise. Den aus Bordesholm stammenden und in Hannover lebenden 25-Jährigen hatte man im letzten Jahr beim Finale der German Blues Challenge in Eutin kennen gelernt. Kühfuß hatte in Eutin die Marius Tilly Band unterstützt und ist auch auf deren aktueller CD zu hören. Und nun wird er auch auf dem ersten Studioalbum der JHBB zu hören sein, was seine Anwesenheit bei der Geburtstagsparty der JHBB erklärt.
"Unterwegs" – ein flotter Boogie – ist der Titelsong dieses Albums, welches für den 1. November 2015 angekündigt worden ist. Kühfuß wirkte frisch und munter, was sicher nicht nur an seinem jugendlichen Alter lag. Die Spielfreude stand ihm ins Gesicht geschrieben. Vor dem Auftritt hatte er mir verraten, er freue sich auf den "Mann von nebenan", denn dann könne er sich so richtig 'austoben'. So war es dann auch.
Inzwischen hatten zwei weitere Gäste die Bühne betreten. Mit ihrem deutschsprachigen Blues Rock tritt die Joris Hering Blues Band das Erbe der Altvorderen der DDR-Bluesszene an. So ist es nicht verwunderlich, dass sich die JHBB zu ihrer Party auch zwei Protagonisten der ostdeutschen Bluesgemeinde eingeladen hatte. Bernd 'Kuhle' Kühnert (voc, g) hatte vor 40 Jahren bei der Engerling Bluesband angefangen und war 1979 gemeinsam mit Rainer 'Lello' Lojewski zu Monokel gewechselt. Bekanntermaßen gibt es seit den 1990er Jahren zwei Monokelbands. Kühnert gehört bis zum heutigen Tag der Kraftblues-Fraktion an.
Peter Pabst (voc, g) hatte einst mit Günter 'Holly' Holwas, dem Initiator der legendären Ostberliner Bluesmessen begonnen, hatte 1980 die Jonathan Blues Band gegründet und ist bis heute deren Kopf. Plötzlich stand ein ganzes Bluesorchester auf der Bühne. Es war schon beeindruckend, wie sich die drei Gitarristen, unterstützt von Piano, Harp und einer soliden Rhythmusgruppe, ergänzten und den Eindruck erweckten, als würden sie schon immer zusammen spielen. Nun ging die Party erst richtig los.
Zum Abschluss des zweiten Teils erklang "Leg Feuer", gesungen von Jan Grünfeld. Auch dieser Titel wird auf dem Studioalbum zu hören sein. Der Text stammt von Grünfeld und die Musik haben Grünfeld und Hering gemeinsam geschrieben. Auch wenn sich nach der Schülerband-Zeit ihre Wege trennten, gehen sie noch heute gelegentlich mit ihrem Zweitprojekt Grünfeld/Hering auf die Bühne. Und eben für dieses Projekt wurde der Titel einst geschrieben.
Die Uhrzeiger rückten langsam auf Mitternacht, als das dritte Set mit "Isolde" begann. Kenner der hiesigen Szene werden schnell erkannt haben, dass dieser Song von der 1981 gegründeten Ostberliner Rockband Pankow stammt und werden sich verwundert gefragt haben, wie dieses Stück ins Repertoire einer Bluesband geraten ist. Erschienen ist der Song auf dem 1986er Album "Keine Stars". Auf diesem Album von Pankow sind ausschließlich gitarrenlastige Nummern von Gründungsmitglied und Gitarrist Jürgen Ehle zu hören. Es waren seine Gitarrenparts, die den jungenHering bewogen haben, die Gitarre in die Hand zu nehmen. Und genau jener Ehle hat auch das erste Studioalbum der JHBB produziert. Wie sich doch die Kreise schließen!
Mit "Hoochie Coochie Man", dem "Lied für einen Fluss" und "Little Red Rooster" entfachten die sieben Musiker nochmals ein wahres Feuerwerk, welches erst nach ein Uhr mit dem üblichen Rausschmeißer – dem Hering-Song "Feierabend" sein Ende fand. Feierabend dürfte bei dieser Band noch lange nicht sein. Hoffen wir auf weitere zehn Jahre!